Skip to Content
Custom Shower Doors Designed and Installed in Arizona
Are you planning a total bathroom remodel? Nothing takes your bathroom to the next level like a custom glass shower door. Say so long to your shower curtain and upgrade your shower to a full spa look with a new door installation from Apex Windows & Bath. We specialize in creating custom shower doors in the Tucson and Phoenix, AZ area. Our team takes pride in our ability to provide each customer with a proper shower door to fit their design and budget. Call us today to schedule your free in-home estimate and let us help you upgrade your bathroom space.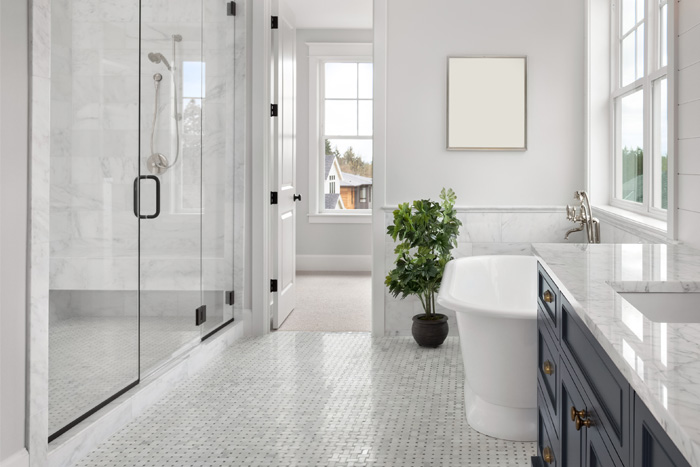 Choose the Door Type to Best Suit Your Style
When it comes to shower doors, there's numerous styles and options to choose from. We'll help you pick the best option to meet your needs and match the style of your bathroom. With over 20 years of experience, our team will ensure your door is a custom fit and provide professional installation. Whether you are looking for a classic style or something a little more luxurious, we've got options for you.
We Offer All of the Following Door Styles:

Bypass Enclosures
Our bypass doors are offered in 3/16", 1/4", 3/8", and 1/2" thickness. This is a beautiful option that is great for space saving and cost effectiveness.

Frameless Doors
Our frameless doors are truly custom to fit your shower enclosure and style precisely. This is the most luxurious option to dress up your shower space and give yourself the complete spa look. We offer frameless doors in 3/8" and 1/2".

Semi Frameless Swing
A semi frameless door is a great value for those looking to modernize their bathroom. We offer a full range of semi frameless swing doors in 3/16" and 1/4" thickness.

Barn Doors
Our newest lineup of beautiful, Barndoor style shower doors add a rustic look with a sleek contemporary feel. 3/8" glass in either a single slide or double slide configuration
Professional Installation
When you hire Apex Windows & Bath, you'll know you're getting professional installation from a trusted source. All of our installations are completed by our own trained installers. We do not hire subcontractors to complete projects for us. This ensures we have complete control over the product and the quality of the installation.