Skip to Content
Customizable Closet Organization Solutions in Arizona
Everyone wants to maximize the storage space in their home, but figuring out the best way to do so can be a challenge. Closets are one of the main areas where this problem can present itself. Often a closet comes with one rod to hang items and maybe a couple of shelves. This is usually not enough space to store your items comfortably. At Apex Windows & Bath, we have the solution to the closet organization problem at your Tucson or Phoenix, AZ residence. We are proud to be a reseller of Organized Living® closet organization systems. Our team is here to help you design and install the perfect closet solution for you.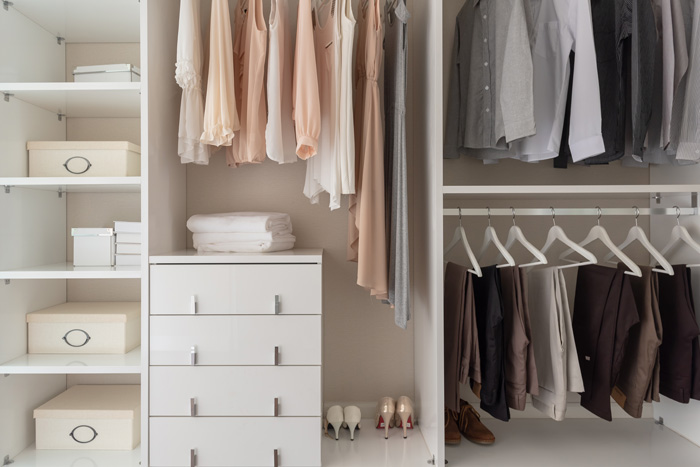 A Solution for Every Storage Space
While many people love to use our systems in bedroom closets, we offer options for almost any space in your home. Whether you have one room you're looking to organize or are interested in using these systems throughout your home, we can help you build a unique solution. Each system has the option to use a combination of heavy duty cabinetry, shelving, hanging rods, and drawers, allowing you to create a customized solution for your storage space.
We Offer Systems for All of the Following Areas:
Pantry
Entryway
Bedroom Closet
Linen Closet
Laundry
Office
Basement
Hobby Room
Mud Room
Bookshelves
Entertainment Center
We Work with Home Builders
Are you a home builder looking for a way to make your projects stand out? We've got the solution for you. Today's homebuyers are looking for houses with storage systems that are functional and versatile. 79% of buyers want more storage than builders provide. An Organized Living® closet solution will help you give buyers exactly what they're looking for. This is a win-win situation. Homebuyers will love that the system is already in place, saving them time and money. You'll love that your clients are happy and satisfied. Give us a call today to learn more or to schedule an in-home consultation.